Coming October 20th and 21st
Classical Music of Japan
VBRMF Sponsors Washington Toho Koto Society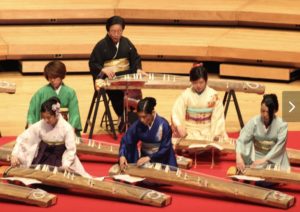 Floyd County, known for its musical talent, will be fortunate to hear a celebrated ensemble that plays classical stringed instruments of Japan, the Koto and the shamisen. Performances are sponsored by Virginia's Blue Ridge Music Festival (VBRMF).
On Friday, October 20, the Washington, DC, Toho Koto Society will give several free concerts to students from Floyd Elementary School and Floyd County High School.
On Saturday, October 21, at 2 p.m., the group will perform at Celebration Hall of the Floyd Event Center at the EcoVillage (188 EcoVillage Trail, SE, Floyd, VA 24091) on Franklin Pike. A reception will follow.
The Washington Toho Koto Society has played for ambassadors, heads of state, and an emperor. For 45 years it has led in the teaching and performance of classical Japanese music in the United States. It opens the Washington Cherry Blossom Festival at the Tidal Basin.
What is a koto? A foot longer than a piano and ten inches wide, it supports 13 strings in a hollow resonating chamber made of paulownia wood. The 17-string bass Koto was introduced in 1921 and plays two to three octaves lower than the original one.
Traditional tuning for both versions uses the pentatonic scale—i.e., in five-tone intervals. But since the bridge for each of string is movable, tuning can be adjusted for the needs of each piece.
The organizational emblem or ka-mom of the Washington Toho Koto Society represents a koto bridge with the silhouette of the Washington Monument captured between its two sides. (See www.kotosociety.org.)
Tickets for the Saturday program are $15 for adults and $5 for students (college including).
To purchase:
Both instruments were initially played only in the Imperial Court from the fifth century. By the seventeenth century music was written for royalty and for accompaniment with kabuki theater and bonraku puppet theater. In the traditional style, the performers also sang the parts of characters and narration while providing the instrumental background music. Vocal music will also be included in the ensemble's performances.
The founder of the Society, Mrs. Kyoko Okamoto, will be leading the performances in Floyd. For 45 years she has taught beginning and advanced koto at the University of Maryland to students from across the United States and from around the world.
Tickets for the Saturday program are $15 for adults and $5 for students (college including).
To purchase: