"Bach, Bluegrass, and Barber"
Sunday, May 31, 2015, 6:00 PM
David Stewart Wiley, Chamber Orchestra Conductor
Akemi Takayama, Concertmaster
Jeff Midkiff, Composer and Mandolin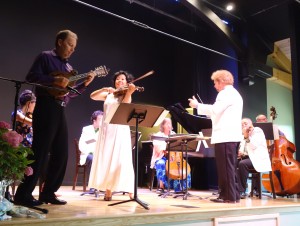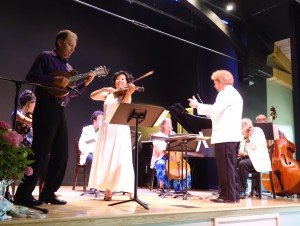 Samuel Barber  Adagio for Strings
CPE Bach   Symphony in C Major
Jeff Midkiff   Double Concerto for Mandolin & Violin (Allegro and Elegy)
Akemi Takayama, violin; Jeff Midkiff, mandolin
Jeff Midkiff    Mandolin Concerto  (new orchestration)
Jeff Midkiff, mandolin
Jeff Midkiff   A Visit from the Muse
Jeff Midkiff, mandolin
 Josiah Sprankle   "Pilgrim" [2015, premiere]      [click for BIO]
Jeff Midkiff, mandolin; Julee Hickcox, flute
Henryk Wieniawski  Polonaise No. 1 in D Major
Laurel Brooke, violin       [click for BIO]

Jules Massenet  'Meditation' from Thais
Akemi Takayama, violin

Akemi Takayama, violin
Jeff Midkiff, composer/mandolin
Elise Blake, violin
Geronimo Oyenard, violin
Bernard Di Gregorio, viola
Kelley Mikkelsen, cello
John Smith, bass
Julee Hickcox, flute
David Stewart Wiley, piano
Laurel Brooke, violin (Roanoke Youth Symphony Orchestra concertmaster)
Josiah Sprankle, composer (Roanoke Youth Symphony Orchestra member)
***Reception/Meet the Artists, immediately following the Concert***
Violinist, Akemi Takayama appears internationally as a soloist and chamber music collaborator and has recently collaborated with famed Irish pianist, John O'Conor. She is an associate professor at the Shenandoah University Conservatory of Music and concertmaster of both the Roanoke Symphony Orchestra and The Williamsburg Symphonia in Virginia. In the fall of 2012 Takayama also served as a faculty member at the Oberlin Conservatory. Acclaimed by Isaac Stern as "a true musician," she was invited to the Marlboro Music Festival and has served on the faculties of the Chautauqua Institute in New York, the Idyllwild School for the Arts in California, the Brevard Music Center in North Carolina, Shenandoah Performs in Virginia and at Virginia Tech. Takayama also enjoys her recent associations with New Orchestra of Washington and Virginia's Blue Ridge Music Festival. She has served as an adjudicator for Virginia ASTA Solo Competition, The Virginia Music Teachers' Association and National Music Teachers' Association and currently serves as a member of the Collegiate Advisory of Virginia String Teacher's Association. She was also a violinist in the recently retired Audubon Quartet, of which she was a member for fourteen years.
Born to musical parents in Tokyo, Japan, Takayama began her violin studies with her mother at the age of three. Her professional violin career began in Japan at the age of 15. She has performed throughout Japan, France, and the U.S., including appearances with the Shinsei-Tokyo Philharmonic Orchestra, the Toho School of Music Orchestra, and on a "FM Recital" broadcast throughout Japan on NHK Radio. She also has performed with the Tokyo Metropolitan Orchestra, the Yomiuri Philharmonic Orchestra, Music at Gretna, and with the New World Symphony Orchestra. Her solo performances in the U.S. have included radio and TV appearances in the greater Cleveland area and with the Cleveland Institute of Music Symphony Orchestra, the Grand Junction Orchestra, and the University of Wyoming Symphony Orchestra and Chamber Orchestra.
 Akemi Takayama's recent solo performances with orchestras include Daugherty's Fire and Blood and Ladder to the Moon, Mendelssohn's Double Concerto, Vivaldi's The Four Seasons, Pärt's Fratres, Beethoven's Violin Concerto, and Brahms's Double Concerto for violin and cello, Mozart's Violin Concerto, Bach Concerto, Mendelssohn Violin Concerto, and Roskott's Violin Concerto.   During her graduate studies, Akemi was a teaching assistant to the renowned Donald Weilerstein at the Cleveland Institute of Music, where she earned both an Artist Diploma and a Master of Music degree. Previously, she studied with Toshiya Eto and Ryosaku Kubota at the renowned Toho School of Music in Tokyo, where she earned her bachelor degree in music performance. She also studied with Brian Hanly at the University of Wyoming where she earned her professional studies degree.
Ms. Takayama plays a J.B. Ceruti violin from Cremona, Italy, made in 1805.
Jeff Midkiff, Mandolin– "I feel at home in the Blue Ridge Mountains playing fiddle tunes," Jeff Midkiff says, "but then again, I feel at home in a professional orchestra as well."  A mandolinist and fiddler raised on Bluegrass and a professional clarinetist, Jeff Midkiff is an outstanding musician who feels comfortable in more than one setting—musically and personally.
Jeff grew up where Bluegrass and traditional string band music thrived. Given his first mandolin at the age of 7 by a neighbor (Sherman Poff, to whose memory Partners In Time is dedicated), he moved quickly into the world of fiddlers' conventions and contests, winning his first mandolin competition before reaching his teens.
As he grew older, he added the fiddle to his instrumental arsenal and joined the New Grass Revue—yet at the same time, he took up the clarinet and began to perform with his high school's symphonic band.   Even as he was immersing himself in the classical repertoire, he continued to gain attention as a mandolin and fiddle player.
By the time he graduated he had his sights firmly set on a musical career, and in 1981 Midkiff began studies at Virginia Tech, eventually earning a degree in music education and performance. Yet even as he was immersing himself in the classical repertoire, he continued to gain attention as a mandolin and fiddle player with the McPeak Brothers, a widely respected bluegrass group with whom he made his first serious recording in 1982 (five selections from that album are included on Rebel Records' McPeak Brothers: Classic Bluegrass CD).
In 1983 he joined the Lonesome River Band, which would eventually become one of bluegrass's most acclaimed groups. For the next five years, as he completed his education and started working as a music instructor, he performed with the LRB, recording two albums with the group, including its self-titled Rebel Records debut in 1987. Shortly after that, he enrolled in graduate school at Northern Illinois University, earning his Master's degree in clarinet at the end of the decade—but though the move meant leaving the LRB, he continued to perform with an Illinois bluegrass band, Bluegrass Express.
During the early part of the 1990s, Jeff lived in Florida and performed clarinet with the Naples Philharmonic and later moved to northern Virginia area to be an orchestra director in the Fairfax County schools. "I went a good five years without opening my mandolin case," he notes, "and as a full-time teacher in northern Virginia, I wasn't playing much clarinet, either." An appearance with the Annapolis Chamber Orchestra at Carnegie Hall reawakened his passion for the latter, and in 1995 he moved to the Chicago area to revive his performance career — on the clarinet only, he thought, but ultimately on the mandolin and fiddle, too. Busy as a clarinetist with area ensembles and as a youth orchestra conductor and educator, he was drafted in 1998 by The Schankman Twins, a California-based bluegrass duo now signed to Rounder Records.
"All of a sudden I was getting these ideas for tunes, and as soon as I started getting creative, I thought, I need to start recording." He was writing a lot, too. "All of a sudden I was getting these ideas for tunes, and as soon as I started getting creative, I thought, I need to start recording." He has appeared several times with the Milwaukee Symphony Orchestra on mandolin, and likewise in the Roanoke Symphony Orchestra's clarinet section since 1980. In 2006, Jeff moved back to his hometown of Roanoke, Virginia. Jeff is an orchestra director in the Roanoke City Schools.
Jeff Midkiff's Concerto for Mandolin and Orchestra, "From the Blue Ridge," was composed in 2011 as a commission from David Stewart Wiley and the Roanoke Symphony Orchestra. The first performance was immediately hailed as an exciting and necessary addition to the concerto repertoire for mandolin and orchestra, and is now being performed all over the U.S..  Jeff Midkiff's Double Concerto for Violin and Mandolin premiered with the Roanoke Symphony Orchestra in Roanoke and Blacksburg November 9-11, 2014.
Artistic Director & Conductor of  Virginia's Blue Ridge Music Festival, David Stewart Wiley, serves concurrently as Music Director & Conductor of New York's Long Island Philharmonic and Virginia's Roanoke Symphony Orchestra (RSO.com). Active as a guest conductor, pianist, arranger and film composer, Wiley has guest conducted acclaimed symphonies including Boston, Buffalo, Cincinnati, San Francisco, Milwaukee, Indianapolis, Minnesota, Saint Louis, Atlanta, Oregon, Honolulu, and Utah, among many others in 35 U.S. states. Wiley's music career has taken him to dozens of countries in Europe, Asia, and Africa. He has previously served as Assistant Conductor of the Minnesota Orchestra and the Indianapolis Symphony Orchestra. Among his diverse activities, he created and leads an acclaimed event with business executives and musicians together on stage titled "Conducting Change" which helps executives to model leadership skills in a fun and engaging atmosphere.
2012 saw the international release of the film "Lake Effects" starring Jane Seymour, featuring a symphonic soundtrack played by the RSO conducted by David Stewart Wiley with new original music by Boyle and Wiley. In the fall of 2012, Wiley hosted another trip to Europe culminating with a performance at the Liszt Academy in Budapest.
David's U.S. Summer Music Festival conducting appearances include Aspen, Brevard, The Music Academy of the West, Tanglewood, Park City, Minnesota Orchestra Summerfest, Indianapolis Symphony on the Prairie, and many others. From 1999 until 2006, Wiley was the Artistic Director & Conductor of the Wintergreen Summer Music Festival, where he founded the Festival Orchestra and Academy. His seven years at Wintergreen as artistic director and conductor were a time of remarkable artistic and financial growth for WPA, where he programmed and led over 100 performances of symphony, jazz, chamber music, and educational concerts.
Wiley's CDs include an album of French cello concerti with Zuill Bailey & the Roanoke Symphony on Delos International, Beethoven's Symphony No. 9 "Choral", American Piano Concertos with Norman Krieger on Artisie 4, "David Wiley & Friends: Classical Jazz", "American Trumpet Concertos" with the Slovak Radio Symphony and Paul Neebe, and violin/piano duo CD "Preludes & Lullabies" with Akemi Takayama.
Wiley holds a Doctor and Master of Music in Conducting from Indiana University, a degree in Piano Performance with honors from the New England Conservatory of Music, and a degree in Religion, summa cum laude, from Tufts University. Wiley was honored by the NAACP as Citizen of the Year in the Arts, and he is a recipient of the Perry F. Kendig Prize for service to the arts.
As a solo pianist, Wiley has performed with numerous major orchestras throughout the United States including Minnesota, Indianapolis, Oregon, Honolulu, Wheeling, and at the Aspen, Garth Newel, Wintergreen, and Prince Albert (Hawaii) summer festivals. He has also appeared as a jazz pianist in Boston's Symphony Hall and in recital appearances throughout the U.S. as well as in China, Russia, Romania, Germany, the Czech Republic, Italy, and Bulgaria.
Wiley collaborates with a diversity of well-known solo artists and groups in the Classical and Pops world, including Billy Joel, Sir James Galway, Jessye Norman, Midori, Lynn Harrell, John Williams, Andre Watts, Jon Nakamatsu, Eiji Oue, Norman Krieger, Zuill Bailey, Giora Schmidt, Christian Zacharias, Orly Shaham, Bernadette Peters, Bruce Hornsby, Jennifer Holliday, Marvin Hamlisch, Mercedes Ellington, Lou Rawls, Doc Severinsen, Aaron Neville, Michael McDonald, Art Garfunkel, the Pointer Sisters, Ben Vereen, Kool & the Gang, Cirque, Jeans n' Classics, Boz Skaggs, Billy Ocean, K.C. & the Sunshine Band, The Moscow Ballet, and the Sounds of Blackness.