[et_pb_section bb_built="1″][et_pb_row _builder_version="3.0.102″][et_pb_column type="1_2″][et_pb_text admin_label="Heather Blake" _builder_version="3.0.102″ background_layout="light"]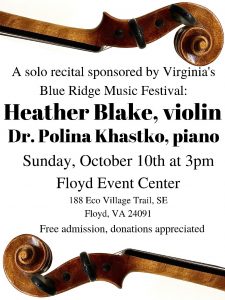 [/et_pb_text][/et_pb_column][et_pb_column type="1_2″][et_pb_text _builder_version="3.0.102″ background_layout="light"]
Thank you Heather.
Her performance will include pieces by Ester Magi, Edvard Grieg and J.S. Bach.
Here is a video of Heather performing for a competition
[/et_pb_text][/et_pb_column][/et_pb_row][et_pb_row][et_pb_column type="4_4″][et_pb_text admin_label="2020 Appalachian Spring" _builder_version="3.0.102″ background_layout="light"]
Appalachian Spring & The Four Seasons
It was a great event.. thanks for attending.
The orchestra, conducted by David Stewart Wiley, will feature Akemi Takayama and other acclaimed musicians.
[/et_pb_text][/et_pb_column][/et_pb_row][/et_pb_section]