3Celli Benefit Concerts with Blacksburg Refugee Partnership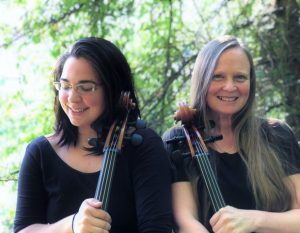 3Celli (Eleanore, Lisa, and Miriam Liske-Doorandish) will perform at the Floyd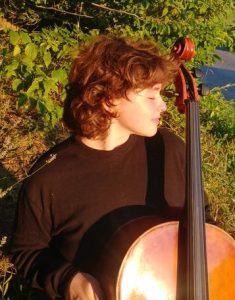 Presbyterian Church on July 27th at 7:00PM.  The concert is in part a benefit for the Blacksburg Refugee Partnerships. The three cellists will present an hour-long program of music for cello solo and ensemble, ranging from Renaissance and Baroque to Romantic to 21st century to international traditional music. Audiences in Floyd and Blacksburg will have a chance to enjoy the great sound of the cello in some of its many roles, from its origins as a Renaissance and Baroque bass instrument through its exciting genesis as a solo voice during the centuries since then. The musicians have a fundraising goal of  $4,000. Half of the proceeds from donations at the door will go to Blacksburg Refugee Partnership, the other half toward Miriam's travel to Prussia Cove [England] Open Chamber Music. There she will have an opportunity to further her development as an artist and make connections with other like-minded young musicians from around the world. Once the goal is reached, all further proceeds will go to the refugee partnership.  The concert is free but donations will gladly be accepted.
Welcome to the 2018 Concert presented by RSO and Virginia's Blue Ridge Music Festival.  Mark your calendaR!
 Classical Music in the Mountains
"Barber, Mozart, Vivaldi"    
Sunday, June 10, 3:00 pm   
Celebration Hall, Floyd EcoVillage
Learn more and purchase tickets here: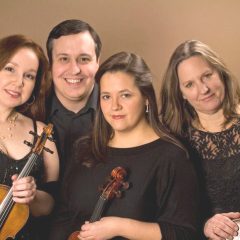 On March 17th The Floyd Center for the Arts and Virginia's Blue Ridge Music Festival welcome the talented Madison String Quartet to Floyd VA
. Along with the concert Saturday evening the Quartet will lead a Master Class for local music students. The Quartet will be appearing at The Floyd Center for the Arts on March 17 from 7:30 to 9:30 PM. Tickets for adults are $25 in advance and $30 at the door, student tickets are $15 in advance and at the door.  The Madison String Quartet, praised for its energetic performances and inventive programming,
is bringing a new side of classical music to the New York metropolitan area. Drawing on the international experience of its members, the Quartet "has carved a niche out for themselves by exploring Hispanic literature from both sides of the Atlantic". (Paul Somers, Classical New Jersey) The Quartet is involved in blurring the line between performer and audience, creating a comfortable performance atmosphere for masterworks from past and present. The Madison String Quartet is essential listening.