David Stewart Wiley
VBRMF Artistic Director David Stewart Wiley serves as Music Director and Conductor of the Roanoke Symphony.  Maestro Wiley has conducted such distinguished symphonies as Atlanta, Boston, Buffalo, Cincinnati, San Francisco, Milwaukee, Indianapolis, Minnesota, Saint Louis, Oregon, Honolulu, and Utah.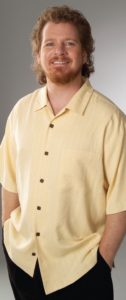 Wiley's music has taken him to dozens of countries in Asia, Africa, and Europe including Italy, Germany, Slovakia, and the Czech Republic.  Wiley also serves as Principal Conductor of the Long Island Concert Orchestra in New York.  He previously served as Assistant Conductor of the Minnesota Orchestra and the Indianapolis Symphony Orchestra.
Wiley's leadership with the RSO since 1996 has been a success, with stellar reviews; innovative commissions for new music that fuses classical and Bluegrass; and a diverse list of guest artists and composers.  The RSO has hired over 50 new professional musicians during his tenure, raising the orchestra to new artistic heights.  The RSO works with WVTF Public Radio to broadcast its concerts, and started producing its first live TV web broadcast in conjunction with WDBJ-7.  Wiley partners with schools and numerous arts and civic organizations throughout the region; he and the RSO recently received a Distinguished Music Educator Award from Yale University.
Innovative events like "RSO Rocks" and the "Destination" series have broadened what a symphony event can be for new audiences.  His work to bring classical music to youth in minority communities has been steadfast, and he was honored by the NAACP as Citizen of the Year in the Arts for his service.  This past year, Roanoke City Council unanimously named him Roanoke's Citizen of the Year for his outstanding service and outreach to diverse communities, an endeavor separate from his professional duties.
As a solo pianist, Wiley has performed with numerous major orchestras throughout the United States, including Minnesota, Indianapolis, Oregon, Honolulu, Wheeling, and West Virginia, performing major concerti by Baroque to contemporary composers, often conducting from the piano.  He has appeared as both a jazz and classical pianist in Boston's Symphony Hall and in recital and chamber music appearances throughout the United States—as well as in China, Russia, Romania, Germany, Hungary, Italy, the Czech Republic, and Bulgaria.
Summer engagements have included the Aspen Music Festival, Brevard Music Center, Garth Newel, Wintergreen, Park City, Minnesota Orchestra Summerfest, Sitka (Alaska) and Prince Albert (Hawaii) summer music festivals.  From 1999 until 2006 Wiley was the Artistic Director & Conductor of the Wintergreen Summer Music Festival.  He conceived an acclaimed event with business executives and musicians together onstage; titled "Conducting Change," it helps executives to model leadership skills in a fun and engaging atmosphere.
Wiley won the Aspen Conducting Prize, served as Assistant Conductor for the Aspen Music Festival, and won a conducting fellowship at Tanglewood Music Center (MA).  He holds both a Doctor and Master of Music in Conducting from Indiana University, a degree in Piano Performance with honors from the New England Conservatory of Music, and a degree in Religion, summa cum laude, from Tufts University.  A  recipient of the Perry F. Kendig Prize for service to the arts, he is also a Paul Harris Fellow with Rotary International.
He and his wife, Leah Marer Wiley (a soprano soloist and certified fitness instructor),  have a son and a daughter who study cello and violin and enjoy traveling, hiking, biking, and making music.  www.DavidStewartWiley.com
Jeff Midkiff 
A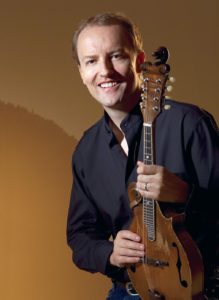 Virginia native, Jeff Midkiff is an internationally acclaimed mandolinist and composer as well as clarinetist and music educator.  He received his BA in Music Education from Virginia Tech, and his MM in clarinet performance from Northern Illinois University.  He was a member of the bluegrass group Lonesome River Band and his solo CD Partners In Time has received critical attention.  A dedicated music educator, he is also an Orchestra Director with the Roanoke City Schools.  Jeff received the 2017 Yale Distinguished Music Educator award from Yale University.
David Stewart Wiley and the Roanoke Symphony Orchestra commissioned Jeff to compose the mandolin concerto, From the Blue Ridge (2011) and the Double Concerto for mandolin, violin, and orchestra (2014). He has performed From the Blue Ridge with numerous orchestras including the Rochester Philharmonic, Jacksonville Symphony, and the Knoxville Symphony.  To critical acclaim Jeff recently performed the Concerto at the Kennedy Center with the Boulder Philharmonic as part of the 2017 SHIFT Festival.  His new mandolin quintet Gypsy was commissioned by the Carpe Diem String Quartet and was premiered in February.  Today's performance of the quintet is the Virginia premiere.
Dilshad Posnock
Originally from Mumbai, India, flutist Dilshad Posnock has appeared as a soloist and chamber musician in concerts and festivals across the United States, England, Puerto Rico and India, and has been featured on BBC TV and BBC World Service Radio.
Ms. Posnock's performance experience is wide and varied, including concerto appearances with the Bombay Chamber Orchestra, Brevard Symphonic Winds, McKeesport Symphony, Pittsburgh Civic Orchestra, and Royal College of Music Symphony Orchestra.  She has performed solo and chamber recitals with musicians from the New York Chamber Ensemble, the Chamber Orchestra of Europe, the Academy of St. Martin-in-the-Fields, Renaissance City Winds, and The Meridian Ensemble.   Ms. Posnock has participated in such international musical events as the Casals Festival in Puerto Rico, the Cape May Music Festival, and Musica Viva; she was a founding member of the Sangat Music Festival in Mumbai, India.
Ms. Posnock completed her undergraduate studies with honors at the Royal College of Music, London, and her Masters Degree at Carnegie Mellon University in Pittsburgh; there she studied with renowned flutist and pedagogue Jeanne Baxtresser, former Principal Flute of the New York Philharmonic.  While in Pittsburgh, she performed regularly with ensembles including the Pittsburgh Symphony, the Pittsburgh Ballet, and Pittsburgh Opera. Ms. Posnock served as Artist Lecturer in Flute and Director of the Artist Diploma Program at the Carnegie Mellon School of Music.
Apart from her activities on the flute, Ms. Posnock served as the coordinating editor for Jeanne Baxtresser's Great Flute Duos of the Orchestral Repertoire, published by Theodore Presser in 2002, and as Assistant Director for the annual Jeanne Baxtresser International Master Class. For Theodore Presser she also worked on a publication project with renowned flutist Sir James Galway.
Ms. Posnock currently lives in Brevard (NC) with her husband, Jason, and two young children.  She serves on the faculties of the Brevard Music Center and Brevard College, and she performs regularly with the Asheville Symphony Orchestra.
Jason Posnock
Violinist Jason Posnock enjoys a versatile musical career both in the United States and internationally. He has performed regularly in such prominent American ensembles as the Philadelphia Orchestra and the Pittsburgh Symphony Orchestra, and has accompanied them on tours to Europe, South America, the Far East, and New York's Carnegie Hall. Since making his solo debut with the Philadelphia Orchestra at the age of ten, Mr. Posnock has appeared as orchestral soloist on numerous occasions. As an active chamber musician and recitalist, he has performed in venues throughout the United States, England, Puerto Rico, and India, and has collaborated with such artists as Emanuel Ax, David Krakauer, Ursula Oppens, Andrés Cárdenes, Noah Bendix-Balgley, William Preucil, Andrés Díaz, and the American Chamber Players.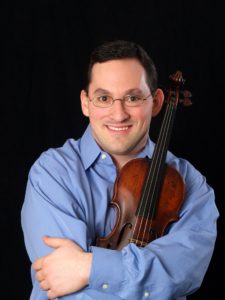 Concertmaster of the Asheville Symphony Orchestra since 2007, Mr. Posnock previously held the positions of Concertmaster of the Clarksburg (WV) and McKeesport (PA) Symphonies. He has often been invited to perform with the Pittsburgh Symphony, as well as serve as Guest Concertmaster of ensembles such as the Bangor, Roanoke, Erie, Westmoreland, and Altoona Symphony Orchestras.
In addition to his performance schedule, Mr. Posnock has devoted much of his time to teaching and working with young musicians. He serves on the faculty of the Brevard Music Center, as Artist Lecturer in Violin at Carnegie Mellon University, and as Conductor of the Intrada Strings Preparatory Orchestra, while he maintains a teaching studio. He has also coached the violin sections of the Carnegie Mellon Philharmonic and the Three Rivers Young People's Orchestra.
Originally from New Jersey, Mr. Posnock began taking violin lessons at the age of four. His early teachers included famed pedagogue Samuel Applebaum as well as David Arben, Associate Concertmaster (retired) of the Philadelphia Orchestra.  He attended Princeton University, graduating with honors in 1994, and went on to earn his ARCM(PG) from the Royal College of Music, London, where he studied with Felix Andrievsky.  He continued his studies with Yumi Scott, member of the Philadelphia Orchestra, before completing the Performance Residency Program at Carnegie Mellon University in Pittsburgh as a student of Andrés Cárdenes, the former Concertmaster of the Pittsburgh Symphony Orchestra.
Presently Mr. Posnock resides with his family in Brevard, serves on the faculty of Brevard College, and is the Director of Artistic Planning & Educational Programs of the Brevard Music Center.
Elise Blake
Described as "a violinist of outstanding technical accomplishment and a musician of inordinate sensitivity" by conductor Steven White (Metropolitan Opera), Elise Blake is a versatile and experienced performer of chamber, solo, and orchestral repertoire.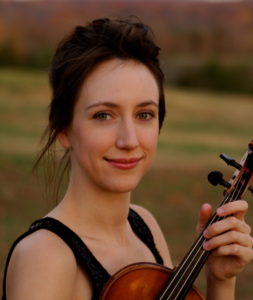 Based in the Washington, DC, region since 2015, Elise performs with the Annapolis, Baltimore, Delaware, Harrisburg, Maryland, Richmond, Roanoke, and Virginia Symphonies, among others.  Elise adores opera and has performed with Wolf Trap Opera, Sarasota Opera, Rhymes with Opera, and Virginia Opera; she has served as concertmaster for Ash Lawn Opera, Opera Roanoke, and Heritage Theatre. She joined the Knoxville Symphony Orchestra full-time for the 2016/2017 season and continues to perform with Michael Stern's acclaimed IRIS Orchestra in Memphis, TN.
Committed to the music of living composers, Elise performs with the Grammy-nominated Inscape Chamber Orchestra, the innovative PostClassical Ensemble, and the New Orchestra of Washington.  For the third year she is playing with the Cabrillo Festival Orchestra of Contemporary Music which has "made the contemporary repertoire sound urgent, indispensable, and even sexy" (Allan Ulrich, Financial Times). Elise has worked with many of today's leading composers including Jennifer Higdon, Christopher Rouse, John Corigliano, Sean Shepherd, Mason Bates, and Stewart Copeland.
Dan Allcott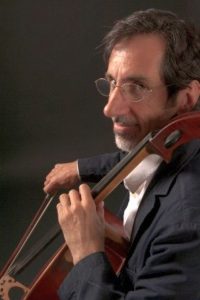 Dan Allcott maintains a busy career as a cellist, conductor, and teacher. He frequently performs recitals with the Cumberland Piano Trio and Isotone, a new music group. In May of 2016 the trio and Isotone performed an evening of commissioned 21st century works at Symphony Space in New York City. He is Artistic Advisor with Eastport Strings in Maine, where he performs and teaches each summer. Allcott received a Master of Music in Cello Performance from Indiana University, where he continued his doctoral studies in both the Conducting and Cello programs. His teachers included John Ehrlich, Tsuyoshi Tsutsumi, Janos Starker, and Helga Winold. A widely respected teacher, he is on the faculty of the Tennessee Cello Workshop and Cellospeak.
For 10 years Allcott was Music Director of Atlanta Ballet, where he conducted over 250 performances. He is currently Music Director of the Bryan and Oak Ridge Symphonies in Tennessee and is Professor of Music at Tennessee Tech.
http://danallcott.wixsite.com/danallcott/dan-allcott-cello
Bernard Di Gregorio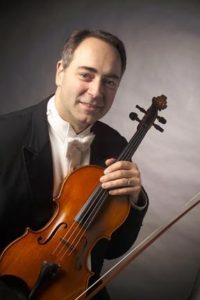 Bernard Di Gregorio is the violist of the Montclaire String Quartet, which is in residence at West Virginia State University. Among his many responsibilities he is the Principal Viola of the West Virginia Symphony and Artist-in-Residence in the West Virginia Symphony/Kanawha County Schools String Program. During the summer months he is the Principal Viola with the New Hampshire Music Festival where he also participates in the chamber music program. He was Principal Viola with the Roanoke (VA) Symphony for over 20 seasons, and was also a member of the Alabama Symphony. Mr. Di Gregorio also performs occasionally in the viola section of the Cincinnati Symphony Orchestra. Bernard studied at the New England Conservatory of Music and holds a diploma in Viola Performance from the Longy School of Music where his principal instructor was George Neikrug.
Ali and Eli Wildman
VBRMF Scholarship Winners
Eli Wildman, 16 years old and homeschooled, recently completed high school by earning a GED at New River Community College.  Eli began studying classical and traditional music at age seven with Mike Mitchell of Floyd Music School, beginning with guitar and switching to mandolin soon after attending his first Old Fiddler's Convention in Galax, VA, at the age of eight.  Seven years later, Eli won first place youth mandolin and eighth place in the adult mandolin competition at Galax (2015), first in Floyd County's Bland Music Scholarship Competition in 2015, and first in Mandolin at Bristol Rhythm and Roots Reunion Youth Music Competition.  Eli currently studies jazz mandolin with David Oakes in Floyd, VA, and plans to apply to Berklee College of Music for 2018.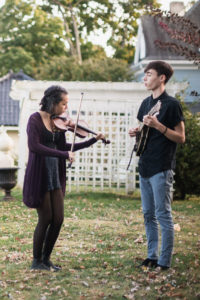 Aila Wildman, a 14-year-old homeschooled student, first picked up the violin and began classical and traditional music study at age 5 with Mike Mitchell of Floyd Music School.  Her love of music is spread in equal measure over singing, violin, and fiddle in many genres spanning from classical to Old Time and beyond.  Regularly placing and winning ribbons in competitions over the years, she was honored to be awarded third place in the adult bluegrass fiddle competition at the Old Fiddler's Convention 2016.  Aila has also won first place in Floyd County's Bland Music Scholarship Competition and the Bristol Rhythm and Roots youth music competition.  She currently plays in the first violin section of the Roanoke Youth Symphony Orchestra, and studies classical violin with Benedict Goodfriend of Roanoke, VA.  Aila plans to continue her study of classical and traditional music and attend a music college.
Aila and Eli began performing bluegrass and traditional music together at the ages of 8 and 10, first with The Blackberries, the youth bluegrass band of Floyd Music School, then with Star City Revival, the band of Roanoke's Jefferson Center Music Lab.  In 2014, they began to play as a family band, The Wildmans, and perform at many local and regional festivals throughout the state, averaging 20+ shows per year.  This spring they traveled to Rockville, MD, to record a debut album on the Patuxent Records label.  The album features two original instrumental compositions written by Eli, and a selection of tunes from various genres:  bluegrass, Scottish, jazz, and Old Time spiritual, as well as a classical Bach duet.  Aila and Eli are also participating in an apprenticeship for 2017-18 with Master Artist Nate Leath; sponsored by The Virginia Folklife Program, it is supported by the National Endowment for the Arts.